25mm scale transfers
15mm scale transfers
See the
Products page
for greater break-down of the products on offer and pdf files of transfers - great if you need to check transfer size against your models.
VVV produces a wide range of transfers (decals) to complement wargames figures and vehicles. See the drop down menu above to quickly navigate the site or go here for an index of the products available.
Transfers are the "clip-art" of the miniature painting world, allowing quickly to add stunning graphics to your figures.
VVV transfers are printed onto a clear background film, allowing you to create your choice of shield design. The film is also printed, with holes for shield boss etc so no cutting out needed. Just soak in water and apply.
Designed to cover the rise and fall of the Roman empire. These rules are especially suited to refights of historical battles and can be used with any scale of figures. Full details, scenarios, army lists and downloads available on
the Die is Cast page
.
Wargames Factory plastic figures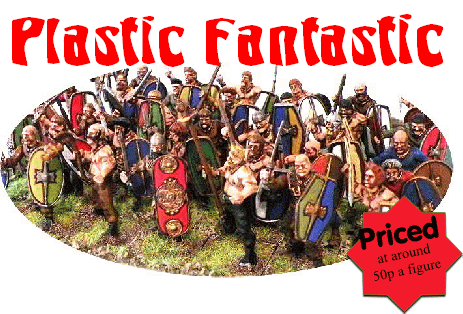 Wargames Factory plastic figures. A wide variety is available; Malburian, Caesars legions, Gauls, Ancient Germans, Numidians, Zulus, British colonial infantry, Zombies, Dark Age infantry, Samurai, Orcs, Sci-fi infantry, Skeletons, Greeks, Persians and WW2 American and Germans.
Click on image above to see more details about the Wargames Factory range.
We produce a range of high-quality water slide transfers (decals) for wargame figures.
Transfers are designed to fit onto the figures they are to be used on. This involves measuring shields and other areas of the models to make the fit as close as possible. Allowance is also made for any shield bosses or central spines. This makes them easy use, as well as looking good. Painting shields is hard work and getting designs consistent on several figures is even harder, that's why there are Veni Vidi Vici transfers!
We also do custom work to meet customers' specific requirements and suggestions to expand our ranges are always welcome.
PARTICULARS OF OWNERSHIP OF VENI VIDI VICI
Veni Vidi Vici
Slaters Farm
Cow Hill
Preston
Lancashire
PR2 5SH

Veni Vidi Vici is run by Mr J G Taylor, operating as a sole trader. Established in 1992.
Veni Vidi Vici would like to say thank you to the troops of all coalition forces. So if you are serving or have served, please enter ARMED FORCES as a discount code when you place your order.
Please note folks this is not about the rights or wrongs of the conflicts but our gesture of appreciation for the efforts of the troops.
1st November 2013
Back in control again. The webshop has been updated. All Renaissance Ink magentic bases have been removed (sorry for the confusion for some who thought that they were still available). Renaissance Ink flocking gels will be removed as the remaining stock is sold. If you want anything that is no longer stocked from the Renaissance Ink product range, please contact them direct.
Two new sizes added to the MDF magnetic base range; 60x15mm and 60x20mm.
13th September 2013
The VVV shop is now working again. Most of the functionality has been restored to the shop, most importantly the ability to shop on one page and then move to another page, whilst the cart remembers what you had just bought.
One thing is that the currency is not remembered and goes back to its default (pounds) on the change to another page. So just before you pay, make sure that the currency is set to the one that you want to use.